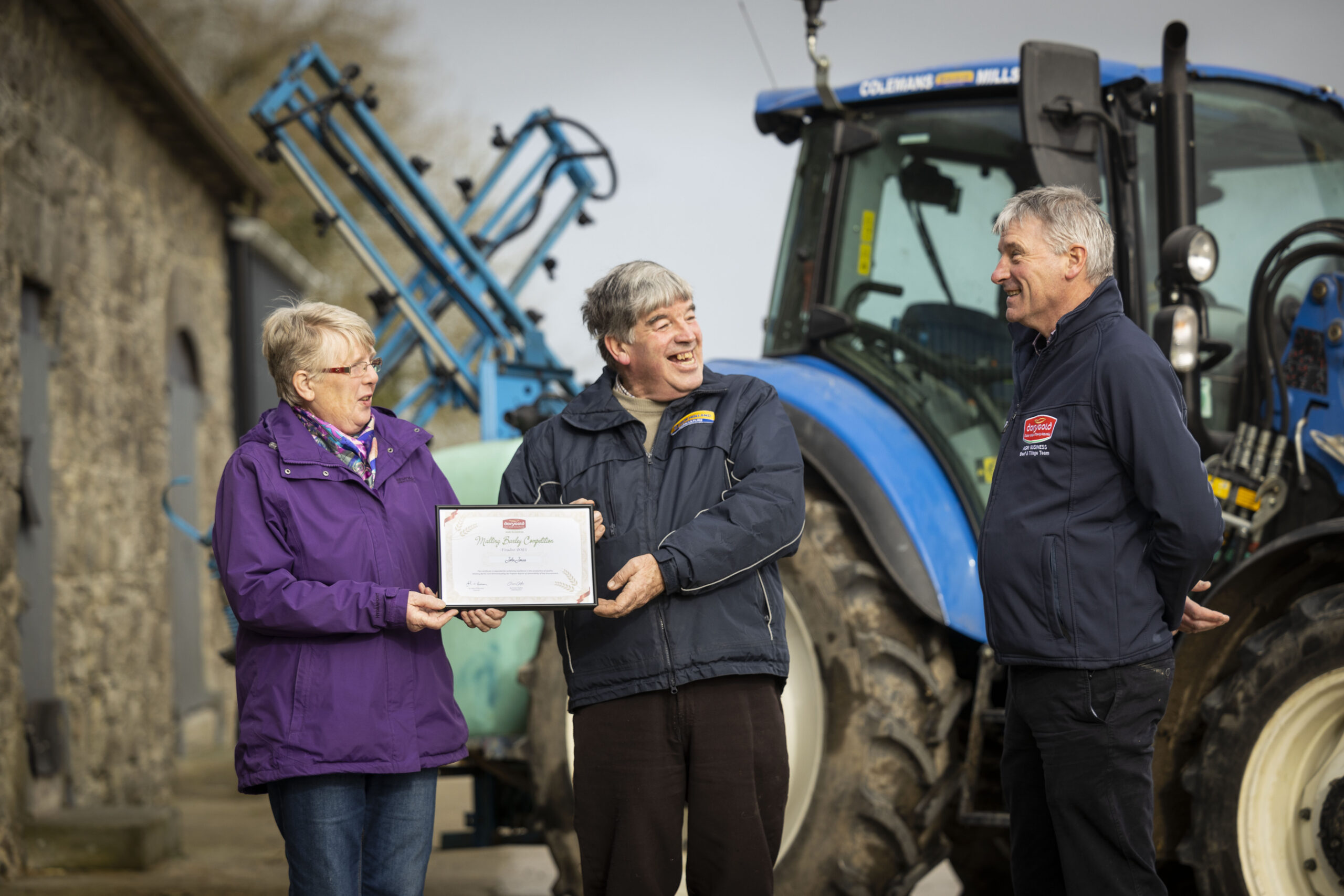 Tillage farmer John Jones of Churchtown, is the winning grower in Mid/North Cork area this year where he farms with his wife Mary. Situated in the Golden Vale, the Jones' tillage farm is divided into 3 fields and remainder is grassland.
The Jones family have been great producer of Malting barley with excellent quality grain delivered from their farm annually. John devotes 33 acres of the land to spring barley on continuous tillage. This year, he achieved yields of 3 tonnes per acre in what he describes as 'late harvest ground' as it is usually two weeks later ripening than other areas. 67 acres of the land has been devoted to grassland and 50 calves are being reared for the calf to beef enterprise. John always keeps some homegrown barley to feed his stock and is balances it with soya bean and maize meal.
Having a strong awareness of the environment, John embraces sustainable farm practices where possible and he has joined the GLAS scheme as a result. Soil samples are taken and tested every four years, describing the soil's health as, being excellent. A crop nutrient plan is formed to ensure optimum soil health for best results. Barley is fertilized according to the fertilizer plan. He makes great use of slurry on the farm and spreads light covers onto the grassland. Hedgerows within and around the farm are at varying heights with an abundance of wildlife inhabiting in them. Bird boxes, bat boxes and sand boxes for the bees are also found around the farm to improve biodiversity in the farming landscape and replace habitats lost through changes in farming practice.
In the past, John has had a variety of crop rotations, which included beet and peas. A cover crop can be seen on the farm, leafy turnip, and fodder rape, depending on the ground condition, and some are grazed with younger cattle.
All ploughing, tilling, planting, and rolling is carried out by John himself on the farm. When John is not too busy on the farm he does some contract work in the local area with his JCB. The only outside contractor used is for the hire of the combine harvester.  Some straw is used on the farm, and the remaining baled up and sold to loyal customers. He uses an early herbicide program including Axial Pro, as the farm has a history of Canary grass. He also uses a 2-spray fungicide which includes traces elements. John finds the Dairygold Gatekeeper agronomy package excellent.