SDAS
The National Sustainable Dairy Assurance Scheme (SDAS) was launched by Bord Bia in December 2013 with the support of the Irish Dairy Industry. This independently accredited Scheme demonstrates the quality and sustainability of our dairy produce right back to the farm where the milk is produced. The scheme replaces the existing Dairygold farm audits (for Suppliers who are certified) and it also satisfies the Society's regulatory and commercial requirements.
Dairygold and the Industry as a whole, believe, for the SDAS Scheme to deliver the maximum benefits from the marketplace and to meet the expectations of key customers, full certification of all Milk Suppliers is essential.
Preparation for SDAS
The following table is a reminder of the 10 most common items to be aware of when preparing for the SDAS audit.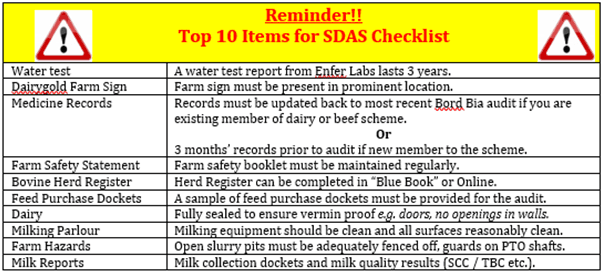 The Dairygold Milk Advisory Team is available to offer help and advice in relation to any and all aspects of the scheme. If you have any queries in relation to the scheme, please contact your local Milk Advisor or our lo call help desk on 1890-200-840.