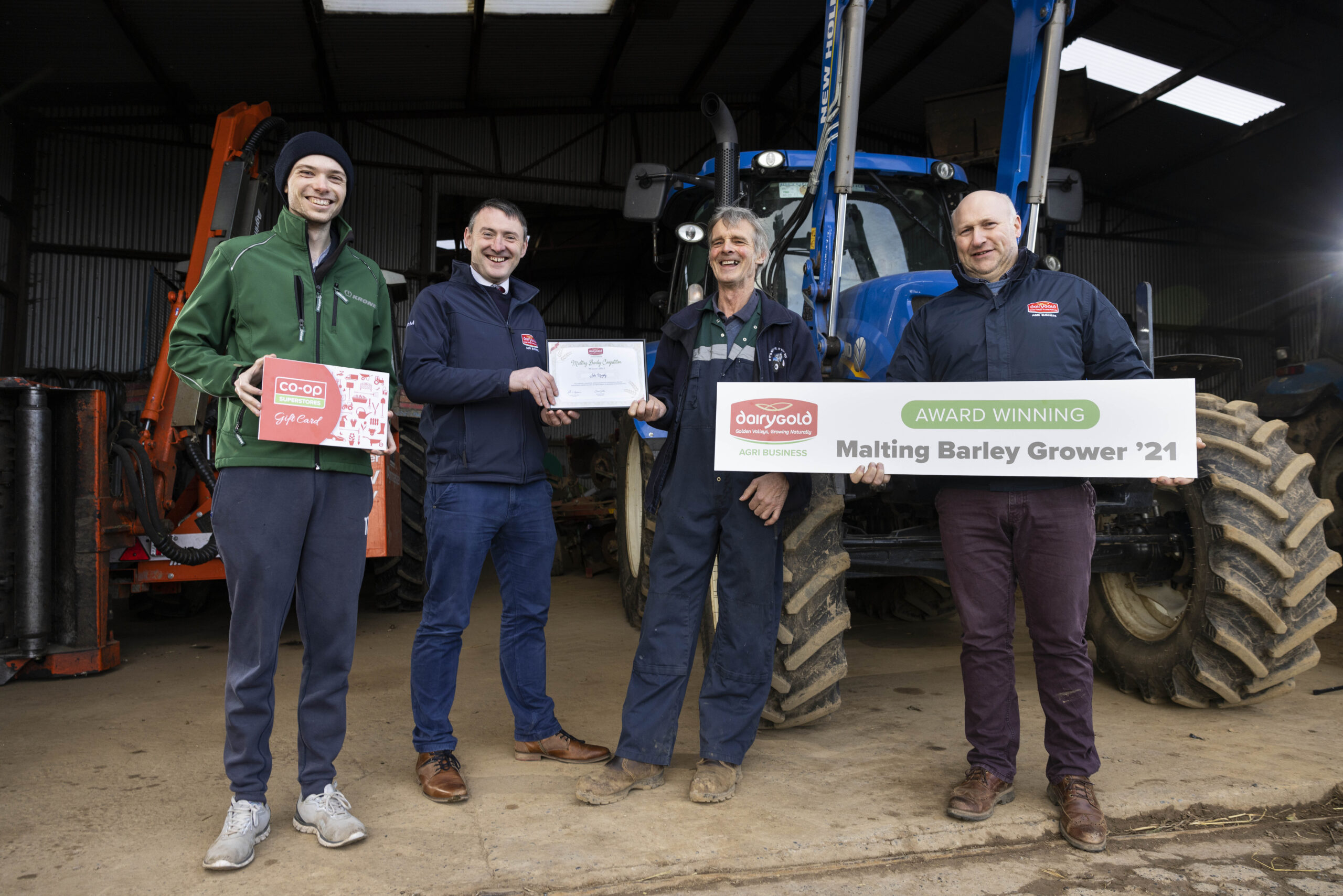 John Murphy of Garryroe Ardfinnan Co. Tipperary is the regional finalist in the Dairygold Malt Competition for the Tipperary region. John is farming with his wife Breda in the Ardfinnan area and supplying Dairygold with malting barley for many years. Johns years of experience growing barley and attention to detail have helped him deliver an excellent sample of barley to Dairygold with very high bushel, exceptionally low screenings, good moisture and malting standard protein levels.
John Murphy served his time as a Diesel Mechanic apprentice many years ago in a local garage, and servicing tractors and machinery gave him his disciplines to always achieve a good job well done. This mindset has followed through to his farming in always looking for optimum yields. John began farming in 1980 on his own land, albeit on a small holding, he has expanded his enterprise by acquiring land through land leases. Over 80% of land farmed today is by way of leasing. The Murphys location is probably in one of the best farming regions in the country. Many fields in the district enjoy the fertility and drainage of the River Suir and the shelter of the Knockmealdown Mountains to the South. Many fields could be said to have somewhat of a "microclimate" effect. The fields John grew his Malting Barley in for 2021 were of south facing aspect and had a shelter from the North blowing winds that we had experienced for many weeks in April 2021. Many crops were held back in that April/May period of last Spring with the cold and wet persisting. Once the heat in June came, crops really pushed on and delivered well at harvest. Johns crop yielded over 3.5 ton/acre with excellent quality.
How are the Murphys doing it!
They have crop rotation, Fodder Beet, Spring malting barley, Winter barley and Oats. When they sow beet in a field Lime status is corrected and Phosphorus and Potash levels are seen to. They have established a reliable customer base for their fodder beet over the years. John does all the machinery work for this from sowing to harvesting as well as washing and delivering same. An extensive list of local contract work has stemmed from this over the years also. Yields of in excess of 30 ton/acre are common. Spring barley generally follows on from the beet, fertility being optimum giving an excellent foundation for the barley to establish.
With many years sowing barley John will always sow when conditions are fit and allow the seeds to establish well. "Well sown half grown". Spraying of weeds is done at any viable opportunity. Spraying is done with a mounted 15 metre boom sprayer, damage to crop by wheels is non existent. There is no evidence of any compaction on headlands or gaps. The crops almost replicate trial plots at Oak Park. Every square metre of sown ground is yielding. Excellent workmanship. Crops get a good fungicide programme and he gets the timing right.
At harvest John uses a Claas Senator combine harvester, while not equipped with yield monitors or GPS technology and well into the vintage category , it has the capability to produce an excellent sample by way of correct concave and screen setting. Johns mechanical experience coming to the fore in this space, showing up some of the more modern units out there. Straw is baled up by himself and meets a brisk local market. If conditions allow a cover crop is sown depending on availability of the field in the coming year in terms of lease or position in rotation.
Over the years an extensive contracting business has evolved by way of his machinery operating ability and mechanical knowledge on service and maintenance. Ploughing, sowing  and harvesting duties for cereals and beet are carried out. Also a silage mowing/ baling/wrapping service is provided during the Summer months. Hedge cutting work tends to fill in those slacker days in the Autumn time. All machines are powered by a FORD or NewHolland tractor of which there are many to choose from. The contracting business is now a bigger part of his enterprise as he has taken opportunities as they present.
The Murphys are very worthy regional winners of the 2021 Malting Competition in the Tipperary region. It is with confidence that Dairygold can supply a quality malt barley to the brewing and distilling industry, when growers like the Murphys are working with us to grow quality barley in a sustainable manner. Doing the simple tasks right has put John out in front as a malting grower. Well done John.