Dairygold and Tirlán are collaborating to expand on-farm Solar PV programme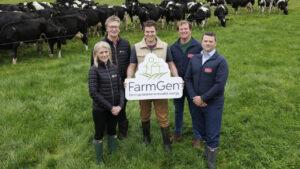 Dairygold and Tirlán have joined forces to further strengthen the dairy sector's sustainability efforts by rolling out Tirlán's renewable energy solutions programme FarmGen to Dairygold suppliers across the Munster region.
The new partnership between two of the leading farmer-owned co-operatives is a clear indication of the dairy sector's commitment to embracing new technologies to cut on-farm emissions and help farm families operate more sustainably and efficiently.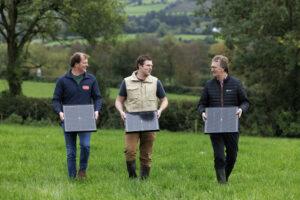 Tirlán first launched its FarmGen Solar PV programme in 2019 and since then have seen farm businesses demonstrate a keen interest in embracing sustainable technologies, with a large number of Tirlán farm families installing a range of fully-financed, turnkey solar-powered energy FarmGen systems since they were first introduced.
Dairygold suppliers can also now also avail of the solar PV programme as part of the switch to renewable energy solutions to reduce on-farm emissions and lower energy bills.
The solar-powered bundle is available through the programme's experienced technical partner, PV Generation. They will supply and install state-of-the-art solar PV systems along with smart monitoring on farms. As part of this solution, FarmGen will manage the Government's TAMS and SEAI grant application processes and submission for competitively-priced financing if required, making it an even more attractive investment.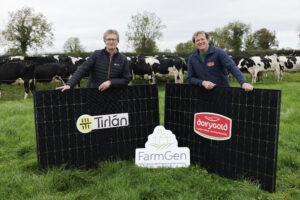 Speaking at the launch of the new collaboration, Tirlán Chairperson John Murphy said, "We are delighted to work together with Dairygold to extend the bespoke FarmGen offering to even more farm families. Farm families work with nature and are keen to embrace renewable energy on farm.
"The new collaboration is a clear indication of the importance Tirlán places on continuously innovating to meet our Living Proof sustainability targets and is in line with the government's commitment to reducing carbon emissions.
"As co-operatives, we have a long history of showing industry leadership and working together to innovate and deliver solutions for our communities. We look forward to working together to continue to bring the latest renewable energy technologies to the farming community to enhance the environmental and economic sustainability of family farms."
Speaking at the launch, Dairygold Chairman Seán O'Brien said: "Our collaboration with Tirlán shows not only Dairygold's dedication to meeting our ambitious emissions targets but also demonstrates how beneficial it can be when industry leaders come together to achieve a common goal.
"By partnering with Tirlán, we're extending the geographical reach of this turnkey solution and making it possible for more farmers to adopt renewable energy on their farms in a manner that is efficient for all involved. The FarmGen programme is yet another positive step in the right direction in our efforts to reduce on farm emissions and contribute to a more sustainable dairy sector."
Dairygold and Tirlán milk suppliers can avail of 100% flexible and competitively-priced financing for the FarmGen installation on their farms.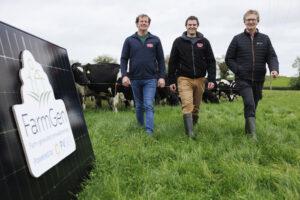 The bespoke FarmGen systems are specifically designed to power energy-intensive processes on farm, such as milk cooling, vacuum pumps, water heating and more. Depending on the system size and battery bundle, FarmGen can deliver energy savings of typically between 20% and 50% per annum.
Farmers who wish to register their interest can go to www.farmgen.ie.