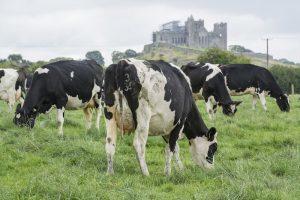 Her race is nearly ran! Its been a slog, especially of late but the average cow has still c. 500-700 litres more to give.
Milk price this year is poorer than last year but 500 ltrs at 40c a ltr is still worth €200 per cow or €20,000 for a 100 cow herd. 
Ok, that's not all margin, but if your cows are producing 14 ltrs, your margin over feed costs will be €1.22 if you're cows are fully indoors on grass silage and €2.20 per day if you're still feeding some grazed grass.  That's a margin after feed costs from €1700 to €3000 for a 100 cow herd for 14 days of milk.
Possible diets and margin over feed costs (0 BCS gain or loss):
Grass + Silage
Silage Only
Grass (kg DM)
6
–
Silage intake (kg Fresh)
25
50
Parlour Feed (kg)
Margin Over Feed Costs €/Day
Parlour Feed (kg)
Margin Over Feed Costs €/Day
10 ltrs Milk Yield
1.5
€1.34
2.5
€0.36
14 ltrs Milk Yield
3.5
€2.20
4.5
€1.22
18 ltrs Milk Yield
5.5
€3.06
6.5
€2.08
25 kg fresh grass = 1 round bale to 30 cows. *Allow for 0 BCS change, if your cows need to gain 0.25 BCS add 1kg of concentrates to the recommended rate. Grass UFL (DM)= 0.9, Silage UFL (DM) = 0.78 (70 DMD), Concentrates UFL = 0.95. Concentrate price = €370/Tn. Milk value 40c/ltr to reflect solids
If you need feed advice for late lactation feeding get in contact with your local Area Sales Manager Today!!!