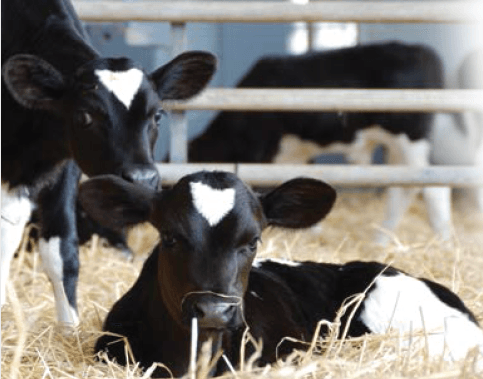 Prime elite 25% plus contains the highly concentrated bio-active milk complex imunopro. Imunopro, a concentrated Whey Protein, is carefully balanced to ensure the optimum level of amino acids, fatty acids and milk sugars for growth, health and development of the calf.
Imunopro contains:
Over 4.5% IgG – The protein responsible for calf health found in colostrum.
Higher levels of key amino acids such as lysine (9.4%) and leucine for growth and muscle development.
Higher levels of bovine milk oligosaccharides this helps to develop a healthy gut bacterial population.
Elevated levels of lactoferrin which is important for gut health and has been shown to reduce scours.
High quality vegetable fats (coconut & sustainable palm oil) are used to mimic milk fat and provide the energy which normally comes from milk fat.
Sugar levels are adjusted to ensure that the right amount of energy is present for the calf to reach it's growth potential
Added Health Supplements
Gardion – which is derived from garlic, has the ability to enhance the immune system as garlic is linked to having antibacterial, antiviral and antifungal properties. This all helps to improve gut health in the calf which is important to maintain good growth and thrive.
Digesterom – which is a plant-based feed additive, contains a unique blend of herbs, essential oils and functional flavours which help to increase the palatability of the milk replacer, increase intakes and nutrient digestion.
Digesterom has also been shown to reduce the incidence of scour in calves and reduce the number of days it takes calves to recover from scour. These combined give the calf the best chance for growth and high performance.
Prime Elite 25% plus can be mixed in cold water because of the high-quality protein used and spray drying technique. When using an automatic feeder, the machine will mix it at a maximum of 42˚C. It is important when mixing that the water temperature is not over 42˚C as this could damage the proteins thus reducing the quality of the milk powder.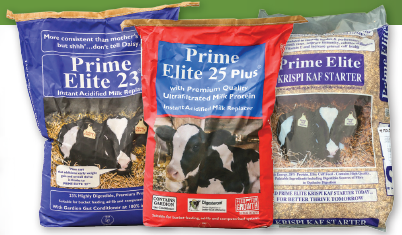 If you have any questions calf milk replacers please contact calf milk replacer specialist Roisin 0867938408, our inside sales team on 022 31644 or your local area sales manager.