Why use Selenium?
Selenium is an essential trace element for Vitamin E function and reproduction in animals.
Selenium deficiency symptoms include:

Fertility problems
Retained placenta
White muscle disease
Poor thrive

A recent Teagasc study has shown that dairy cows receive just 38% of their Selenium requirement from grass
A similar Dairygold survey has shown that cows receive just 30% of their selenium requirement from grass and silage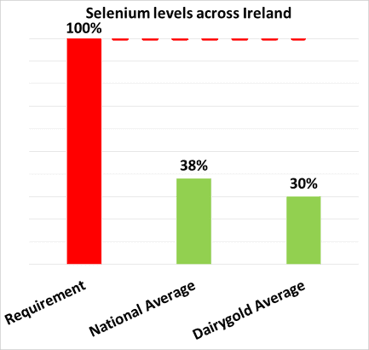 Raymond's farm is naturally deficient in selenium and this needed careful attention each year.
Raymond started using selenium in his fertiliser back in 2017. He was aware of a selenium deficiency on farm. Since switching to using Goulding's selenium fertilisers Raymond hasn't had to worry about deficiency since. The selenium is taken up by grass and silage and is now fed throughout the year. "It's in the diet, it's there, without having to artificially replace it." Fertility has improved and the overall herd health has improved also.
The easiest way to establish whether your farm has a selenium deficiency is to carry out a mineral scan on either grass or silage or to carry out a blood test on a number of animals. Cows require 0.30mg/kg of selenium in their diet so for grass and silage mineral scans, less than 0.16mg/kg can be considered low while less than 0.08mg/kg can be considered very low. The average selenium content in Ireland is 0.11mg/kg.
Raymond spreads 4 bags per acre of selenium fertiliser on grazing and silage ground. He usually starts his years application with Selenistart, the next product he uses then depends on soil fertility. Lower P + K sites receive 18's+Se while fields which receive slurry and have good soil fertility receive Selenigrass. Raymond spreads Selenistart for silage ground.
The Gouldings Selenium range also includes Selenistart (urea + selenium), Selenigrass (CAN + selenium), Selenigraze + Sulphur (24½-2½-5 + Sulphur + Selenium) and Selenicut (20-2-12 + Sulphur + Selenium). If you have any further queries on selenium and fertiliser please contact your local Dairygold ASM or Gouldings Fertilisers directly on 021-4911611
Selenium granule
The source of selenium in Selenigrass, Selenistart, Selenigraze, Selenicut and Seleni 18's contains both quick acting and slow releasing properties ensuring an immediate and lasting effect throughout the season in contrast to other products on the market.
Goulding/Dairygold Selenium Trial Results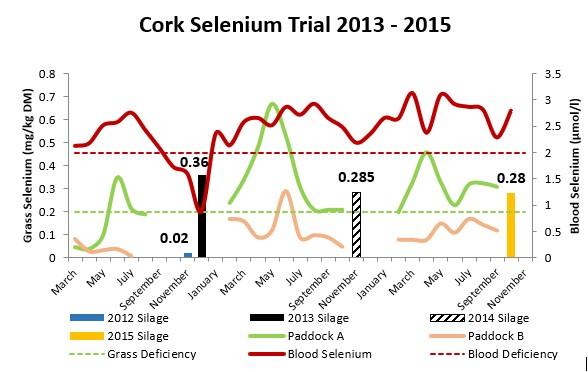 Selenium trial conducted on Dairygold supplier farm 2013-2015
18 fold increase in silage selenium level when selenium program is followed
A similar trial conducted in Kilkenny from 2014-2016 has also shown the following results:
88% decrease in retained placentas at calving

40% increase in 1st service conception
50% reduction in prolonged repeat intervals
Savings of > €50/ha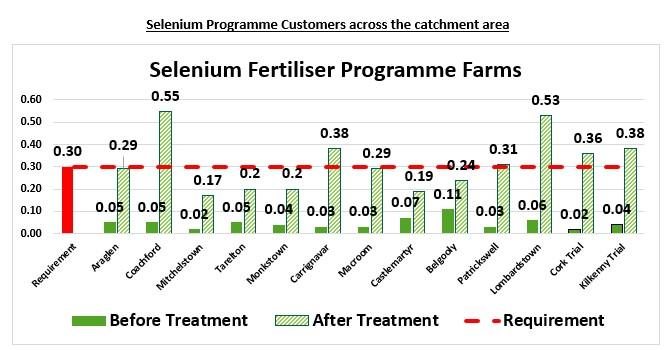 Farmers from all over have been taking part in our Selenium program and are delighted with the results.
Farmers who have used the full Selenium program on their farm have made huge savings as they have been able to cut out boluses, drenches, injections and liquid minerals as well as cutting down on the labour costs. Savings of up to €50/ha have been achieved when savings on infertility have been accounted for.