Dairygold delivers a very strong performance in 2022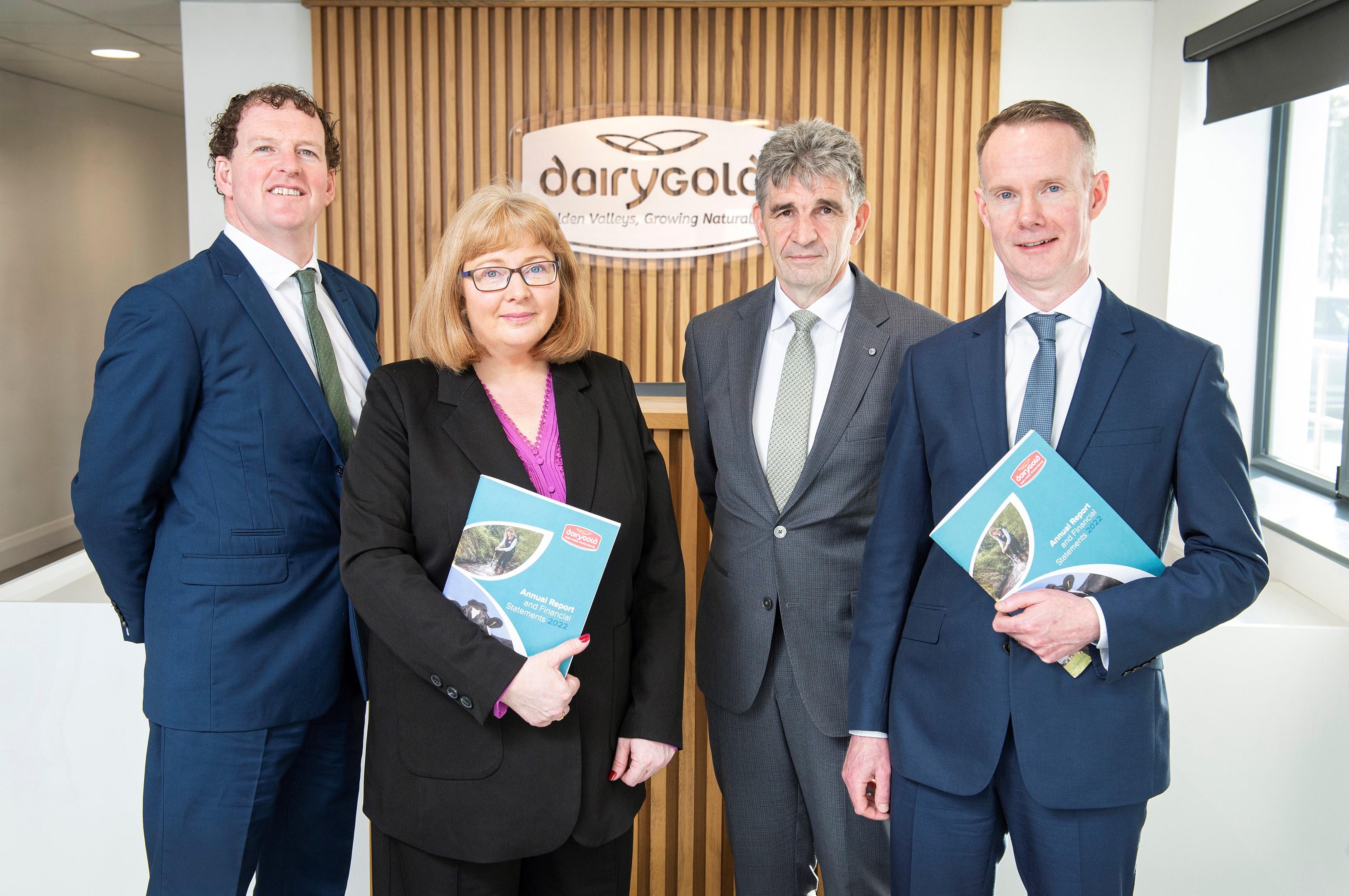 (Wednesday 12th April 2023) Dairygold Co-Operative Society Limited has announced its financial results for 2022. The Co-Operative achieved a record turnover of €1.65 billion, an increase of 40.9% or €477.8 million on 2021, with an EBITDA of €68.5 million and operating profit of €40.2 million, an increase of 10.9 million and €9.8 million respectively.
The significant increase in EBITDA and operating profit was achieved, against a backdrop of considerable volatility and inflationary pressures, while paying leading milk and grain prices, with an excellent performance delivered across all of the Society's businesses.
Commenting on the results, Dairygold Chief Executive Conor Galvin said: "The Society delivered a very strong operational and financial performance. This performance was driven by maximising the unprecedented high market returns, achieving enhanced operational efficiencies, while managing volatility and significant inflationary pressures. This enabled the Society to pay very strong and extremely competitive prices to Members for their produce.
The dairy industry and the volatile conditions within which it operates, continues to go through a period of significant uncertainty, with huge challenges to be faced, including sustainability, geopolitical tensions and ongoing market volatility. The last number of years have been very positive for the Society, and while we have a clear roadmap for the future 'Our Strategy Our Future 2030', we need to be cognisant of how these challenges will influence the future, to continue that success over the coming years. Making the appropriate and necessary decisions, to future proof farm enterprises and the Society, will be critical to deliver the short-term goals and long-term strategic ambitions of the Society and our Members."
2022 Financial Year – Key Figures
| | | | |
| --- | --- | --- | --- |
| Key Indicators | Figure | Movement on 2021 | Percentage change |
| Turnover | €1.65 billion | ­ €477.8 million | 40.9% increase |
| EBIDTA | €68.5 million | ­ €10.9 million | 18.9% increase |
| Operating Profit | €40.2 million | ­ €9.8 million | 33.3% increase |
| Net Asset Value | €457.8 million | ­ €35.6 million |  8.7% increase |
| Net Debt | €132.3 million |  ­ €24.1 million | 22.3% increase |
Dairy Markets
2022 was an extraordinary year for dairy prices. Several factors on the supply side, including weaker output in the major global milk producing regions, post pandemic supply bottlenecks and the war in Ukraine, combined with stable demand, significantly strengthened dairy market returns.
Dairygold reflected this market dynamic, paying a historically high milk price of 62.4 cent per litre, based on the average constituents received including bonuses, plus VAT, an increase of 52% on 2021's milk price.
Dairy market prices have weakened in recent months with slower economic growth and the impact of high product prices reducing demand. This has inevitably impacted milk price in 2023, but as always, Dairygold's main priority is to continue to maximise returns for its Members.
Dairy Business
The Dairy Ireland Business had a very successful year in 2022 and was a significant contributor to the Society's strong operational and financial performance. During the year, 1.48 billion litres of milk were collected and processed from Dairygold Milk Suppliers. Turnover increased by €301.6 million to €1.03 billion, primarily reflecting the record increases in dairy market prices during the year.
The Business continues to benefit from the capital investment programme over the last decade. This, combined with the focus on building and nurturing strong relationships with Oruna and other strategic B2B customers in nutritional ingredients and cheese solutions, has delivered increased margin for the Business in 2022.
Dairygold's Health and Nutrition Business continued to build a strong distribution network in China for its AeraboTM premium brand of fortified Irish whole milk powder. Alongside this, Dairygold is also continuing to explore acquisition and investment opportunities with the focus on finding the most appropriate opportunities from a margin and risk management perspective.
Dairygold's UK and Europe Business performed well in 2022, exceeding expectations, delivering a strong financial performance. The focus for both Businesses during the year was to broaden their commercial footprint through market diversification, product development initiatives and strong customer relationships. In addition, potential acquisition opportunities are being explored, to further develop and grow the Business.
Agri Business
Dairygold's Agri Business delivered a very strong performance across all activities in 2022. The Business was also impacted by the increasing cost of inputs and the challenge of securing products to meet its Customers' demands.  However, despite these challenges, a very strong sales performance was delivered. Support services, including expert technical advice, ensured Customers were getting the best quality products and value to meet their requirements.
There is still huge uncertainty around feed and fertiliser prices, and volatility remains in the market, which will continue to be a challenge for the Business in 2023. Dairygold recognises the impact that this volatility is having at farm level and will continue to offer value to its Members, through strategic and efficient buying practices.
The Business has committed to making a significant investment in Lombardstown Mill over the coming years to ensure business continuity. This investment will provide new state-of-the-art milling equipment within a modernised building, to secure the longer-term future of the Mill, while also improving the sustainability and environmental impact of day-to-day operations.
Strategy
In early 2022, Dairygold completed a strategic review of the business to determine the future ambition and direction for the Society, "Our Strategy Our Future 2030". The review focused on developing the strategy under five core pillars – core business stability, business growth and margin improvement, sustainability and environmental impact, people and culture and financial delivery and governance.
The strategy outlines an ambition to significantly grow EBITDA, through a combination of organic growth and significant adjacent acquisitions, and diversifying the sources of profitability, while delivering sustainable and competitive prices to our Members for their produce.
Sustainability
Environmental sustainability continues to be the biggest challenge facing the dairy industry and agriculture as a whole. The Department of Agriculture, Food and the Marine confirmed in August 2022, that the agriculture sector would be required to cut its emissions by 25% by 2030, versus a 2018 baseline.
Dairygold is continuing to work with its Milk Suppliers to identify actions that can be taken in the short and long term, to deliver a significant reduction in emissions and help achieve the goals set out in the Climate Action Plan.
In 2019, Dairygold was one of the first processing co-ops to introduce a sustainability bonus, to incentivise our Milk Suppliers to improve their ways of working on farm and to improve herd health, milk recording and grass-based milk production. Building on that, in January this year, we launched the Grassroots Milk Supplier Sustainability Bonus. This programme contains a range of balanced measures which we believe, if implemented in full, will contribute significantly to our sectoral emissions target and improve water quality and biodiversity on farm.
Moving forward and closer to our 2030 target, we need an integrated industry approach to reach our collective emissions goal. A clear plan from the Food Vision Dairy Group report, coupled with ongoing measures at farmer and processor level, will be extremely important in helping the industry reach its target.
Dairygold Chairman Seán O'Brien, commenting on the 2022 results, said: "2022 has been a very good year for the Society, a testament to the capability and determination of the Society's Members, Employees and Customers. As we move further into a new year, high input costs, market volatility and the current geopolitical landscape continue to be a concern. We will continue to work in the best interest of our Members to alleviate the pressures of the volatile and challenging market environment, while also continuing to deliver on our Members' ambitions.
Full report available here