Dairygold Agri has sourced and licensed a new Leptospirosis vaccine to meet the needs of herdowners following the poor availability of other Lepto vaccines this year, in partnership with Co-op animal Health
Co-op Animal Health, has verified that the 'Biobos L' product meets the same quality, efficacy and safety standards as the other two Leptospirosis vaccines and will meet the same requirements for animal protection as the other vaccines.
If you missed your usual lepto vaccination earlier in the year, due to the unavailability of the traditional vaccines you should vaccination immediately to protect the pregnant cow across the summer. Delaying lepto vaccination until later in the year will leave more pregnancies at risk of leptospirosis infection. This will increase the risk of early embryo loss or abortions during the summer. Un-vaccinated cows will also increase the risk to you and your farm staff from weils disease.
Leptospira hardjo is a widespread disease in Ireland, affecting over 70% dairy and over 80% beef herds. Leptospira Hardjo is the Leptospirosis serovar (group) that affects cattle in Ireland. There are two strains within this serovar, borgpetersenii (bovis) and interrogans (prajitno).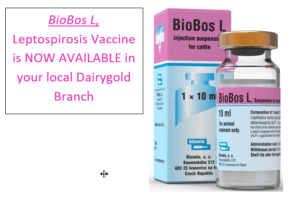 The two strains have genetic variations but are indistinguishable on serological testing. There are two Leptospirosis Hardjo vaccines available in Ireland. Each of these vaccines contains a single strain of Leptospira hardjo.
Clinical signs
Milk drop
Abortion
Weak calves
Vaccination
Vaccination of heifers prior to exposure to the leptospires can prevent kidney colonisation and carrier status.
Vaccinate heifers as early as possible to prevent carrier status
Two dose initial vaccination
Annual booster thereafter
Leptospirosis is a zoonotic disease, which can cause clinical signs ranging from mild 'flu like symptoms to severe, debilitating disease.
Leptosprirosis Vaccine is NOW AVAILABLE in your local Dairygold Branch